Be Elite Tactical conducts Gun Retention Training at AimHi Family Firearms Center in New Albany, OH. Please Call 614-370-5031 With Any Questions!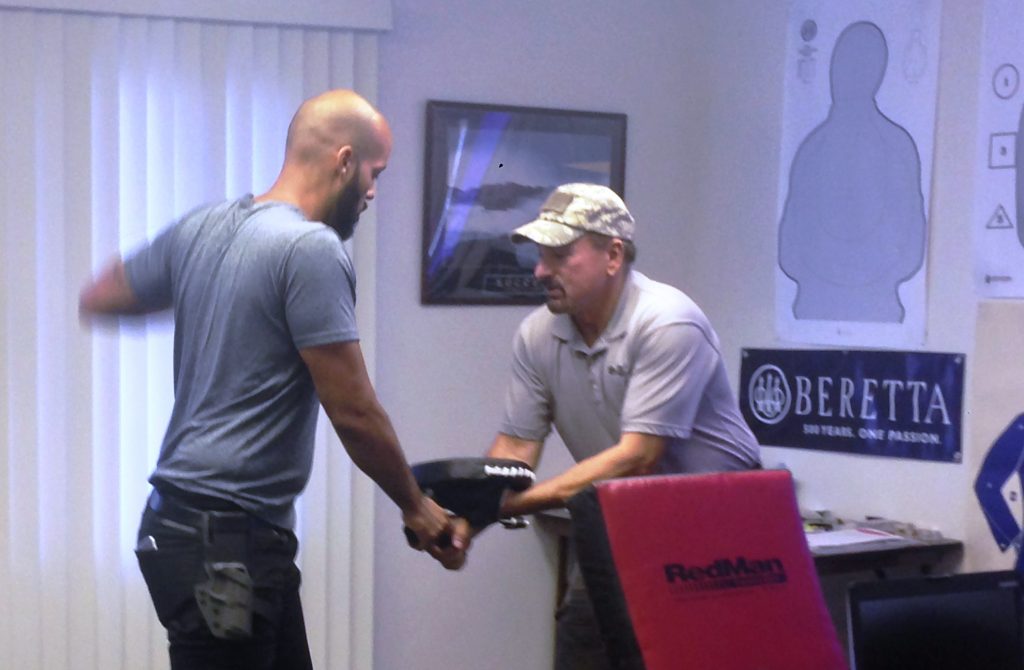 Required Prerequisite: Tactical Handgun 2 (Class Size: Limited To 12) If A Course Is Full, Email Info@Bettoh.com To Be Added To The Waiting List
Sunday, August 12, 2018 – 10:00-12:00 P.M.
Monday, September 10, 2018 – 7:00-9:00 P.M.
This is a 2-hour block of advanced instruction covering:
Close Quarter Battle 2
Gun Retention & Gun Retrieval
Real-World Scenario Shooting Drills Under Stress
Muscle Memory Training
Low Light & No Light Shooting
Tactical Movement
Tactical Reloads

In Front Of The (Firing) Line Training
Course Fee:

$65
PLEASE NOTE: Registrations for training classes are non-refundable and can only be rescheduled if notice is given at least 48 hours in advance of scheduled training.
Contact Us:

(614) 370-5031 or Info@Bettoh.com
To Register Online-Tactical Handgun 3 – Gun Retention Training:
TACTICAL HANDGUN SERIES:
Be Elite Tactical offers advanced firearms classes created specifically for Concealed Carry Holders. Because we believe the CCW course, on its own, is not enough training to teach anyone how to effectively defend themselves with a firearm. Therefore, it takes hours of training to ingrain muscle memory, tactical, and defensive options. As a result, we created a series of 10 consecutive classes (5 Defensive Handgun & 5 Tactical Handgun Classes). As a result you learn, from the ground up, how to carry your firearm, react and effectively defend yourself if ever called to do so.
Tactical Handgun Clinics are very important to take in between each Tactical Handgun Class. And, the clinics help to solidify what you've learned before advancing to the next class in the series.
INSTRUCTOR INFORMATION:
Most of all, our Tactical Handgun Course Series was created  by Tactical Operators, Military (Special Operations) and Security Contractors with decades of experience to empower you to "Train-Because Your Life Depends On It!" As a result, we have incorporated our knowledge of "best practices" to create a logical progression, Defensive Handguns Series for the Concealed Carry Holder.
Defensive Handgun 1 starts the CCW Holder off at their own pace with the basics of realistic concealed carry drills. Then, as you progress through the Defensive Handgun Series, the course content intensifies, integrating prior course topics with new material and subject matter. As a result, we have taken the best applications of Tactical Training and Defensive Tactics to provide the most comprehensive, realistic, training program for any civilian carrying a Concealed Handgun.
Many training companies advertise Tactical-Type courses however, many instructors fail to have the practical knowledge that only comes from real-life, practical experiences. However, our instructors have the experience to advise you on techniques that have been tried and proven. Also, we keep all of our Advanced Classes small, with 12 being our Maximum class size. Because of the small classes you will have lots of range time to build muscle memory, which is only established through repetition.
EQUIPMENT REQUIREMENTS:
In conclusion, you will need your firearm, carry holster(s) Must Be Formed To Fit Your Firearm (no collapsible holsters permitted), extra magazines, tactical vest with mag pouches (optional) as well as 100-150 rounds of target ammunition. Professional Classroom and State of the Art Indoor Range. Most noteworthy, all Firearms Courses instructed by Tactical Operators with decades of hands-on, real-life experience and training.